Article successfully added.
We all need to do our bit to protect the environment and now, thanks to the ECO duvet, you can even sleep sustainably.
By utilising plastic waste that would otherwise end up in a landfill, The Fine Bedding Company has created a light, fluffy and wonderfully soft fibre filling for your duvet.
The filling is made from 100% PET plastic bottles, and the cover is also made from 100% recycled materials (although you'd never guess, it is so luxuriously soft and also has the benefit of being hypoallergenic and breathable too!).And, of course, the packaging is also recycled and recyclable to make this the most environmentally friendly duvet that we stock.
A great example of how modern luxury does not need to cost the earth!
Care instructions:
Wash at an eco conscious 30°C
Tumble dry until thoroughly dry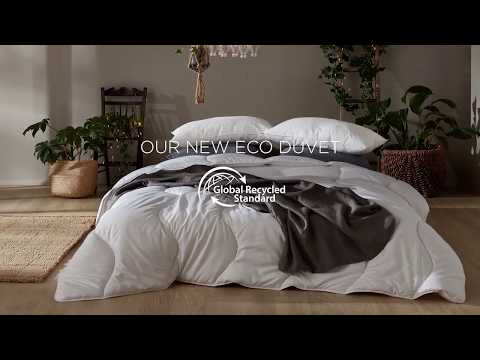 Write a comment
All reviews go through a moderation process and are not displayed immediately.
Delivery:
Please allow 5 – 7 working days for delivery to Ireland & the UK.
Postage:
There is a postage charge of €5 for purchases less than €49. Orders shipped to the UK will incur an automatic shipping charge of €7. Please note there is no free shipping threshold for shipments outside of Ireland. Orders to mainland Europe cost more as they are shipped by weight. Please contact us for an up to date shipping quote.
Click & Collect:
You can also 'Click & Collect' from any of our stores. Please select one of the 'Click & Collect' option at the checkout. You will receive an email when your goods are ready for collection.
Back Orders:
If your item is not in stock, we will notify you immediately and backorder the item for you. You also have the option to cancel your order if you would rather not wait. A confirmation will be sent to you when the item is back in stock and shipped.
Returns:
We want you to be 100% satisfied with any purchase order placed with us. Therefore, if you wish to return an item you purchased online for whatever reason you may contact us by email at
[email protected]
within 14 days of receipt of goods stating the reason for return. Goods can be returned for a full refund if they are faulty or if the wrong item has been dispatched. If the goods have been dispatched as ordered, they can be returned for a refund, for the cost of the goods, less any delivery charge incurred. Please note the cost of returning the unwanted goods is at your expense.
We do not offer free returns.
Please note that if items are returned you should ask for proof of postage from your post office as we reserve the right to refuse a refund if an item is lost whilst being returned. Products need to be returned with the original packaging and price/sale tickets attached. This may not apply to reduced priced items. This does not affect your statutory rights. All returns must be returned within 14 days of receiving your order. Please click
here
for full return details.